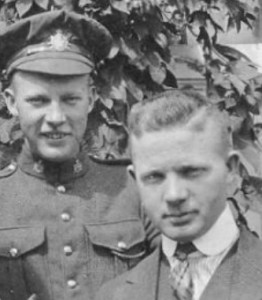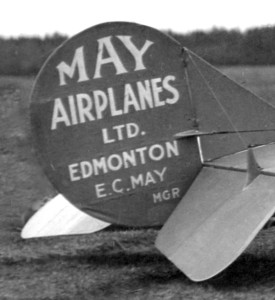 Wop and his brother "Court" rented a Curtiss JN-4 "Canuck" from the City of Edmonton for $25.00 per month, and from the Sproule Farm (May Field) in Edmonton (3 ½ miles NW from the Post Office on the St. Albert Trail) they operated Canada's first registered aircraft company "May Airplanes Ltd."
The company did a lot of flying 'round Edmonton & Central Alberta, performing stunts at airshows, taking people for their first ride in an aircraft, and in 1919 Mayor "Fighting" Joe Clark flew with "Wop" over Diamond Park on the flats below the MacDonald Hotel (it's still a baseball field) and dropped the first baseball to open the 1919 season. On the return to the airport "Wop" convinced Joe the only safe way out of the Saskatchewan River valley (almost a mile wide) was to fly under the High Level Bridge. Flying under bridges is not a recommended activity – probably was illegal then as it is now.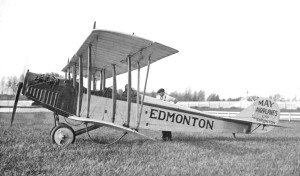 In short order more money was required in the venture and Captain George Gorman joined the company which became "May-Gorman Airplanes Ltd." George delivered the Edmonton "Journal" Newspaper by air to Wetaskiwin 45 miles South of Edmonton. The wind was very strong that day and engineer Pete Derbyshire dropped the bundles of papers on the town fairground as they could not land.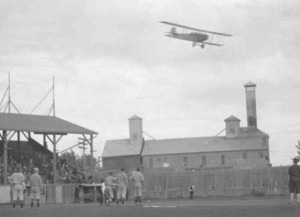 "Wop" flew planes for others too – including aStandard J-1 (a Curtiss JN-4 built by the Standard Aircraft Company) owned by Harry Adair of Lake Saskatoon in NW Alberta. He and Fred McCall from Calgary purchased two Curtiss JN4 "Jenny" aircraft from the United Stated Army Air Service in 1919 – Wop's was #34210 and Fred's #34214. Wop he had a Griffon on each side of the aircraft and his name painted on the top wing so people would know who was flying upside down! Wop and Fred signed a contract with the "Western Canadian Fair Management company and toured Southern Alberta. When Fred McCall landed his "Jenny" (with the Indian head on each side) on the Merry-Go-Round at the Calgary exhibition he purchased Wop's plane. It's worth reading the story of Fred McCall "Maverick in the Sky" by Shirlee Matheson.
In 1924, the flying business was grounded, "Wop" married a noted Edmonton Equestrienne Violet "Vi" Bode in November, and he decided to get a "real" job, signing on with National Cash Register Company of Dayton, Ohio where he went for training as an inspector, and where (when working on a Lathe) he was hit in the eye by a shard of steel – from then till 1938 he was slowly going blind – but that's another story.
Wop's Curtiss "Canuck" still exists – it was restored by Stan Reynolds and is proudly displayed inside the front door of the Reynolds Alberta Museum at Wetaskiwin, Alberta.